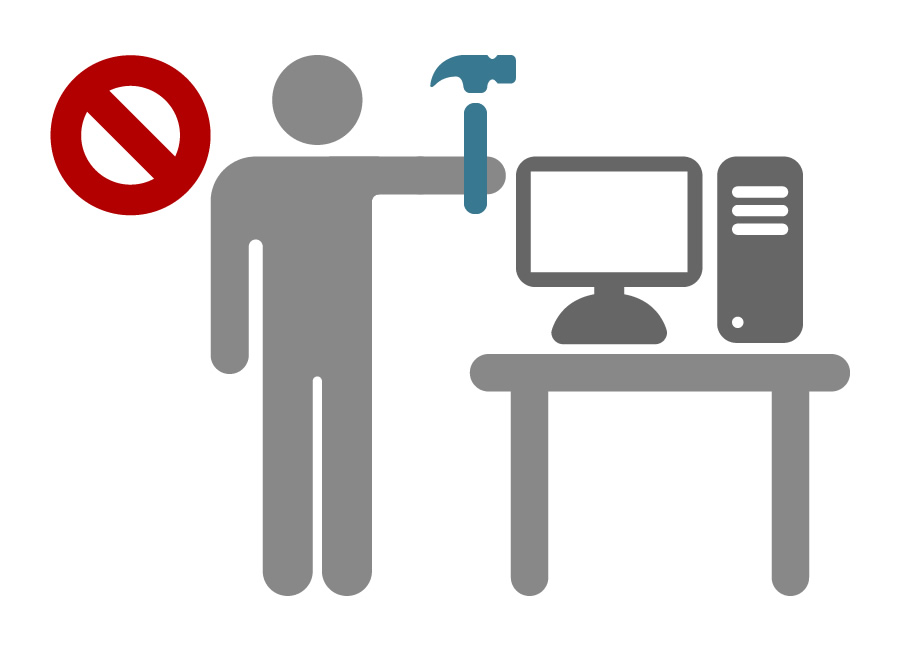 We'd like to start a new series on the blog. "You're Doing I.T. Wrong" is a series that we've had some debate over because we don't want people to think we're trying to pump up our own importance or abilities by pointing out how other people are doing it wrong.
Sometimes, in the world of technology, things are done so egregiously wrong that we can't help but point them out.
My original idea was putting up a "Wall of FAIL" in our office to showcase the worst offenders, but Jason pointed out that it would be too cute by half and mean spirited. I eventually was convinced that we don't really want people to think we sit on our high horses of technologitude and look down on inferior efforts. But…
Episode 1 – Internet Sell-by Date
We love our business bank. Their services are very bank-like and fair (as far as bank-like things go), but they're not a big bank. They're regional and we feel like we have a personal relationship with them like old-timey bank anecdotes. Their online banking is serviceable, but does not have some of the bells and whistles I've seen from other institutions.
Recently, I tried to transfer money from one of our accounts to another and it just wouldn't work. No browser errors or timeouts; it just acted like I hadn't done anything. I normally use Chrome as my everyday browser, but as a web developer, I understand that different browsers can break functionality. I tried Firefox and it worked just fine. Okay, no big deal, but I thought the bank should know that a key function of their site wasn't working in the most commonly used browser in the world. I used their in-system messaging system to tell them the problem and here is the response I received (bank name redacted):
Dear Business OnLine User:

Thank you for contacting [BANK] E-Mail Support regarding browser compatibility.

The minimum hardware and software requirements are as follows:

– IBM or compatible PC
– Microsoft Windows 98, or Windows NT 4
– 256-color SVGA display
– Browser with 128-bit encryption Internet access including Internet Explorer 5.5 or later, Netscape 7.1 or later, and AOL 9.0 or later, Firefox 1.0, Mozilla and Macintosh.

Using one of the browsers above will ensure that you have the highest level of stability and security in accessing your [BANK] accounts online. We will continue to update our web site as new browser versions are evaluated and supported.

We apologize for any inconvenience this matter may have caused.

If we can provide additional assistance, please contact us again by e-mail or by telephone at 1-800-XXX-XXXX. OnLine Support Associates are available to assist you from 6 a.m. to 12 midnight, ET, seven days a week. Our hours of operation for Technical Support are Monday through Friday, 8 am to 6 pm. Thank you for using [BANK] OnLine. We appreciate your business!

[BANK] E-Mail Support
It's pretty obvious this canned response was written years and years ago (IE 5.5 shipped with Windows Me in 2000), but it's an example of how, with the quick pace of technology and the complexity of business systems, stuff gets left behind pretty often. The response above is an extreme example, but how many times have you been to a website and noticed that the copyright in the footer was several years gone. The content seems instantly past its sell-by date and somehow a little less relevant.
As the amount of online assets and data increases in both our personal and business lives, it is getting harder and harder to keep the relevant stuff up-to-date. Dated marketing, technical, and news content on a corporate website simultaneously gives current or potential clients the impression that (1) the business may have, in fact, closed down and now their website is a zombie, (2) these people obviously don't care to or are incapable of updating their website, or (3) their technology, ideas, security, and solutions are at least as old as this content makes them appear.
The Internet as historical repository is one thing, but the important stuff, like browser requirements for online banking, should be updated regularly.